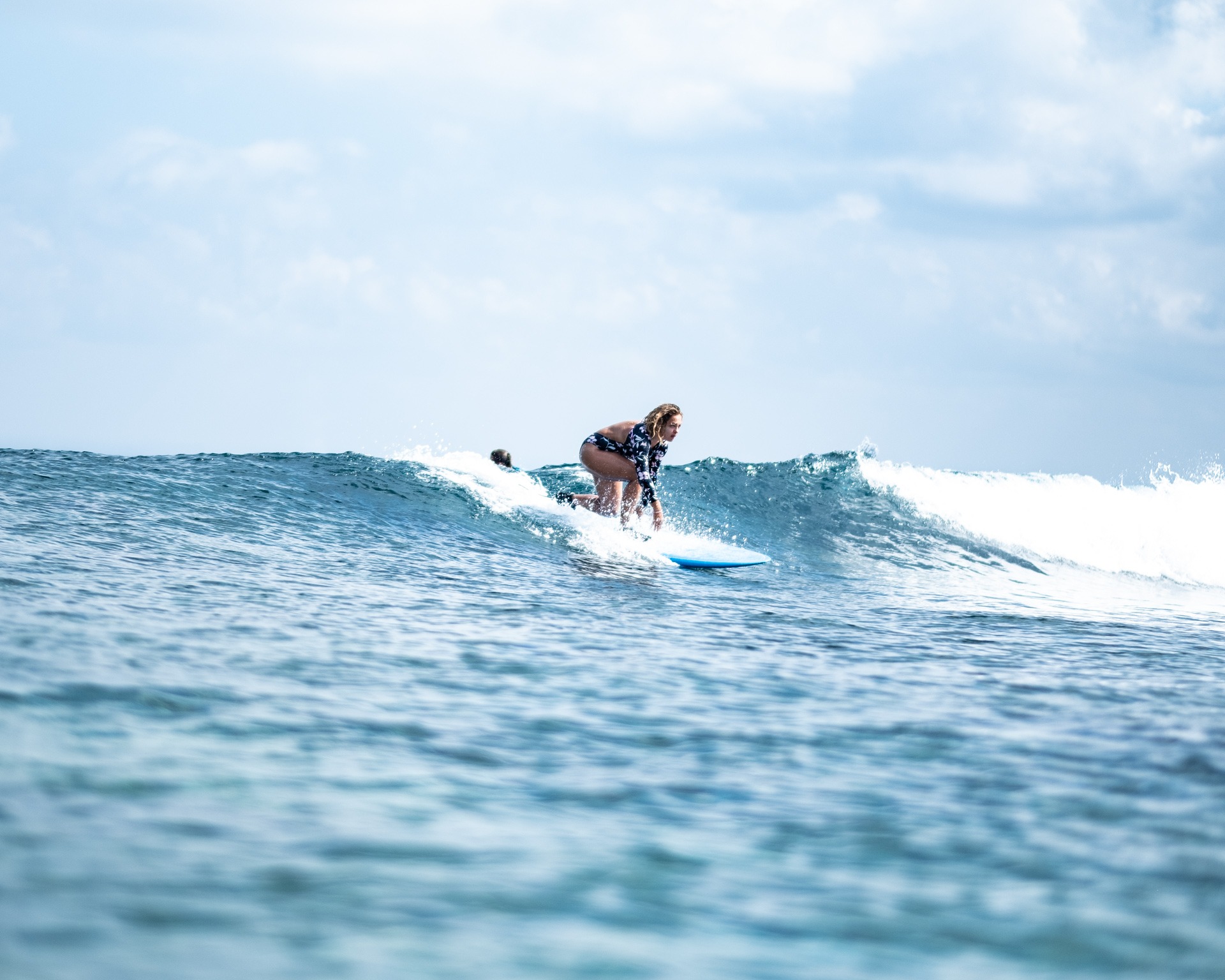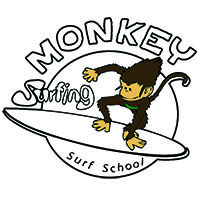 Nusa Lembongan is THE dream island for surfers of all levels.
If you are a complete beginner, all the team at Monkey Surf School Bali be pleased to train you to become able to surf by your own.
Intermediate surfer, come to Monkey Surf School to improve your skills and enjoy the waves.
We also offer a wide range of high quality surfboards and stand-up paddle for rental. More than 40 surfboards to choose from !
A DIFFERENT APPROACH
Monkey Surf School Bali teaching focus is the quality, not the quantity and safety first. Groups in water are made of 3 students max for 1 instructor.
Our experienced surf instructors are surf life-saving and ISA certified and our classes follow the ISA Standards.
This different approach of teaching have shown great results over the 5 years of surf school existence.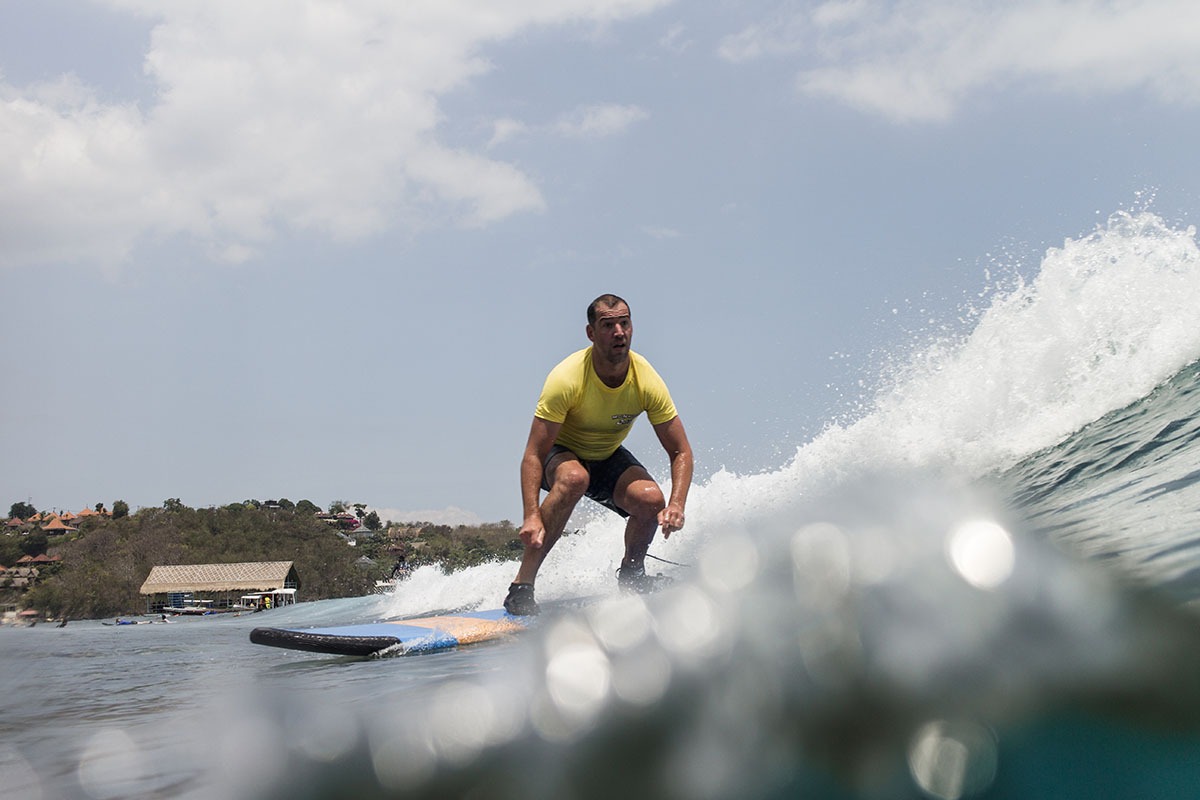 COME TO SURF LEMBONGAN WITH US
INTRODUCTION TO SURFING
1 SURF LESSON
The beginner surf lesson starts with 30min exercises on the beach.

You learn the basics : paddling, having a good position on the board, how to stand-up …

Your experienced surf instructor explains the skills, demonstrates then you practice and he's here to correct you.

After a short boat ride to the surf area you are ready to jump in the water.
The practice in the waves of Nusa Lembongan is the best part : the instructor stays with you in the water and position you properly to catch it, helps by pushing your surfboard (only when necessary) then gives you a short debriefing about the wave you caught. Step by step you improve and experience the overwhelming feeling of standing on a surfboard. You'll spend 1,5 to 2h in the water.
The quality ratio of 3 students per instructor gives us more time to spend with you to ensure you succeed from day 1. 

Once the class is finished we head back to Monkey Surf School where you can take a shower and participate in the debriefing of your lesson.
BEGINNER FULL PROGRAM
3 SURF LESSONS
Great value if you have time, the knowledge you learn will help you to catch the waves all around the world !

You'll be surprised by your improvements in only 3 days !

The aim of the first course is to nicely catch a wave and stand-up. The second day focuses on correcting your body position on the board so you can stand longer and practice accelerating/slowing down. The last day includes more theory at Monkey Surf School and in Lembongan surf spots so you'll learn how to turn, priority rules and interacting in the water with other people.

Once you have completed the 3 surfing lessons for beginners you'll become able to surf on your own ?
INTRODUCTION TO THE REEF BREAK
1 SURF LESSON
INTERMEDIATE FULL PROGRAM
3 SURF LESSONS
For : the intermediate surfer willing a real coaching to solidify his/hers skills
Goal : understand the reef break, dig to the core of your mistakes to greatly improve posture and technique
After a first day of reef introduction to understand the amazing waves of Bali, we will have spotted the mistakes you're doing and will develop a personalized program for the 2 following days, focused on cracking these imperfections to bring you to the next level.

Theory will be covering several subjects such as the reefbreak, reference points, tide, winds, 

and also surfboard equipment, how to choose and understand your equipment.
ADVANCED SURFERS
SURF GUIDING
Your surf guide will help you to select the most suitable surfboard according to the conditions and your experience. After a short briefing you'll jump in the water where your guide will lead you to the green waves. He will help you to catch them at the right spot and also ensure your safety in the water.
SURF GUIDING INCLUDES :

Your experienced guide in a group of 5 persons max.

Boat transfer to the surf area

Surfboard rental (whatever size)

Reefboots

Rashvest

Duration of 1.5 to 2h in the water
ADVANCED SURFERS
COMBO SURF
You need more practice to assimilate your freshly learnt skills?

COMBO SURF INCLUDES :

– Boat transfer to the surf area

– Surfboard rental (whatever size)

– Reefboots

– Rashvest

Duration of 1.5 to 2h in the water

PLEASE READ VERY IMPORTANT

There is NO INSTRUCTION or GUIDING included in the combo surf.

Being on your own in the water means you need to understand and apply the rules and ethic of surfing.
Too many inexperienced surfers try to go on their own too early while they are not yet ready to be without an instructor/guide and without applying these rules. These surfers are a real danger to themselves and to other surfers. The result is unfortunately too often damaged equipment, injuries and frustration that can lead you to get scared or disgusted of surfing.
We do not want that to happen. That's why we reserve the right for our instructors to refuse the access to the combo surf if you are not experienced enough and/or the conditions of the day are not suitable for your level.
Please if you are not ready yet to go on your own do another surf lesson or at least surf guiding. Safety first !
YOU DON'T KNOW IF YOU ARE BEGINNER/INTERMEDIATE AND WHAT KIND OF LESSON WOULD BE GOOD FOR YOU ?
No worries, contact us or stop at the surf school and we will ask you a few questions to help you select the most suitable lesson for yourself.
3 SURF LESSONS PACKAGE FOR USD115
 1 instructor for 3 students maximum 
(Private lessons possible on request).
Your instructor stays with you in the water, brings you to the surf area, gives you great tips to improve and ensure your safety.
 All included : soft or hard surfboards, rashguard, reef boots, boat transfer to surf area (helmets available)
Total duration is up to 2.5 hours
The venue of the lesson is chosen carefully to meet the international surf school safety standards and the experience of the students.
We have the option of 4 different surfbreaks to ensure less crowd.
Lembongan surf spots : Lacerations, Razors, No Man's or Tamarind
SURF RETREATS IN PARADISE